Sunday, November 11, 2012
Veterans Day: A Visit to the Vietnam Memorial
I visited the Vietnam Veterans Memorial Wall again this summer and wrote down my thoughts.
It is July 1, 2012, and I am in Washington, DC. I flew in yesterday, on the heels of a great storm, which has ravaged trees all over the region and has left much of the area without electricity. I have come for a family wedding, two days hence. I stayed last night in the large and comfortable home of a prominent appellate attorney and his family, old friends of my new sister-in-law. They ran a small generator thro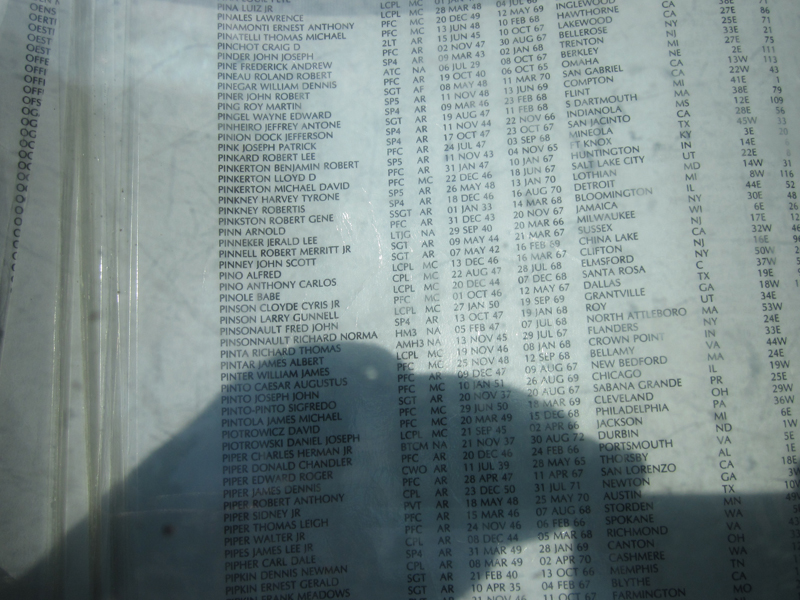 ugh the evening; it was enough to support a video party, run a fan or two, and recharge iPods and cell phones. It was not enough to run the air conditioning. I slept on the floor under an open third-floor window, and I was glad for both the floor and the window.
Now I'm on the Mall among the monuments. It is a hot, humid summer day. I am conducting my own guided, mostly-walking tour of the monuments, for one family member who hasn't seen them in decades and another who never has. We've just picnicked on the banks of the Potomac and passed some time in solemn reflection at the Lincoln Memorial. I insist that our next stop must be the nearby Vietnam Veterans Memorial Wall. I send the others ahead, telling them I will meet them on the other side, because I intend to linger.
I've been here before. It is one of the most powerful war memorials I have ever seen. This time, I'm looking for a particular name: John S. Pinney, of whom I have written before. He is not a relative; nor did I ever meet him. He was -- is -- the dear friend of a dear friend.
Two indexes of names are available in binders, under glass, mostly protected from the elements. The page with his name is missing from one binder, but I find him in the other. Panel 32W, line 46.
The brick walkway slopes downward along the polished black granite wall. The granite was chosen for its reflective qualities and imported from India when I was in high school. As the walkway slopes downward, the wall itself expands downward. Year by year, panel by panel, each year with more names than the last. Soon I am below the bustle of the Mall. The black panels filled with names pass to my left. I am not inclined to notice what, if anything, is to my right.
I am unhurried. The passage of time is marked only by people walking past, individually and in small groups, mostly silent but sometimes whispering. A ranger with another index quietly helps visitors find the names they seek.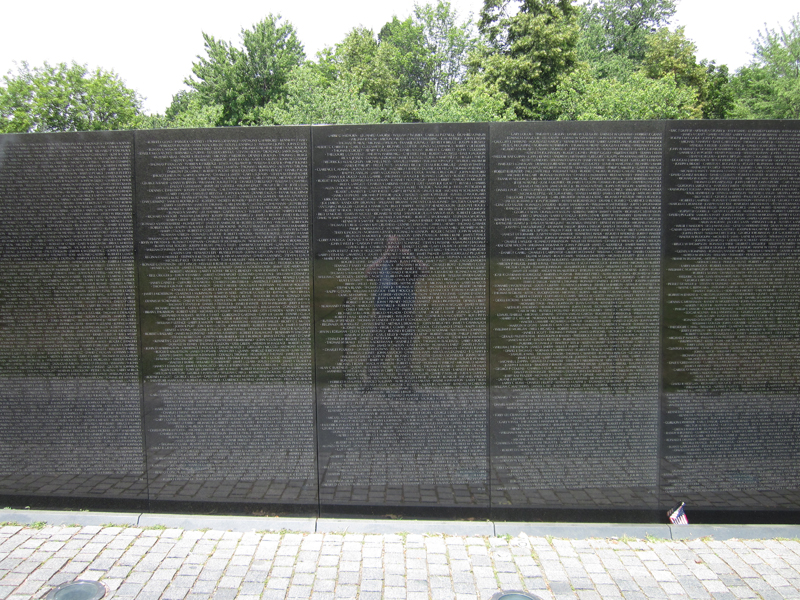 A slender, dark-haired woman about my age or a little younger stands a few feet back from the wall and sobs quietly. Is she a daughter or perhaps a younger sister? Does she simply not care who sees her, or is it for her as if no one and nothing else exists, except her, the name on the wall, and whatever she is remembering? I fancy it is the latter. I pass behind her, not wanting to intrude between her and the name on the wall, not wanting to distract her from whatever place and time fills her thoughts and prompts her tears.
There it is, Panel 32W. I look for the name but don't find it. Finally, I resort to counting the lines. That works. JOHN S PINNEY.
I stand there for a while, remembering what I have come to know of him secondhand. A fine soldier, a finer man. He died saving a comrade in Vietnam, and probably should have had a posthumous Silver Star, I am told.
Then I remember that I brought a camera. Try as I might, I cannot manage to photograph the wall straight on without my own reflection in it. At length I realize that this is fitting. After all these years, most of us, at least, have learned to see ourselves in those names, in that wall. To find a way to remove my own reflection might be to miss the point altogether.
Finally, I move slowly on. The names dwindle as I ascend back to the bustle of July 1 in Washington, DC. My thoughts turn to the gigantic crowds which will fill the Mall for the national celebration three days hence, while I fly home. Independence Day . . .
We are still independent. We are still relatively free -- at least in comparison to other nations, present and past. Yet we are not as free as we ought to be; we have chosen poorly, selfishly, lazily.
Then two trains of thought merge, and I remember one of those mostly-unsung verses of "The Star Spangled Banner":
O thus be it ever,
When free men shall stand
Between their loved homes
And the war's desolation.
I pause to wonder if there are enough free men and women left to stand between us and the siren songs of power-loving despots and tyrannical do-gooders. If there are enough, perhaps it will be a while yet before the number of those inclined to be free slips decisively below the number of those inclined to subsist on the labor of others. Maybe it's just me, but I think that humanity can only be fully human when free. Gratitude is good, too, especially when properly directed . . .
Blessed with victory and peace,
May the heaven-rescued land
Praise the Power that hath made
And preserved us a nation.
Eventually, we leave the Mall and drive to Mount Vernon in Virginia, and thence to our hosts' home in Maryland. Here and there, several traffic signals in a row are out, because the power is still off. Driving is a little more stressful than usual, perhaps, but surprisingly orderly. I'm not one of those libertarians who think traffic signals are an infringement on liberty, but it's worth noting that drivers have adjusted well to their temporary absence. Maybe the masses of Americans are not so vicious or moronic that our every action must be regulated.
Perhaps this small thing is another sign that the blood of our soldiers and the tears of their loved ones are not shed in vain.
Happy Veterans Day.

Normal Version